Subscriptions
You're in Great Company at GET
It's Smart to Subscribe
New Subscribers - you can handle it right here online. Just hit the Buy Subscription button above right - fill out the info and the box office will give you the best possible seats available. Or you can also call directly at 770-641-1260.
If you're renewing your subscription, please call the Box Office to ensure we can get you the same great seats!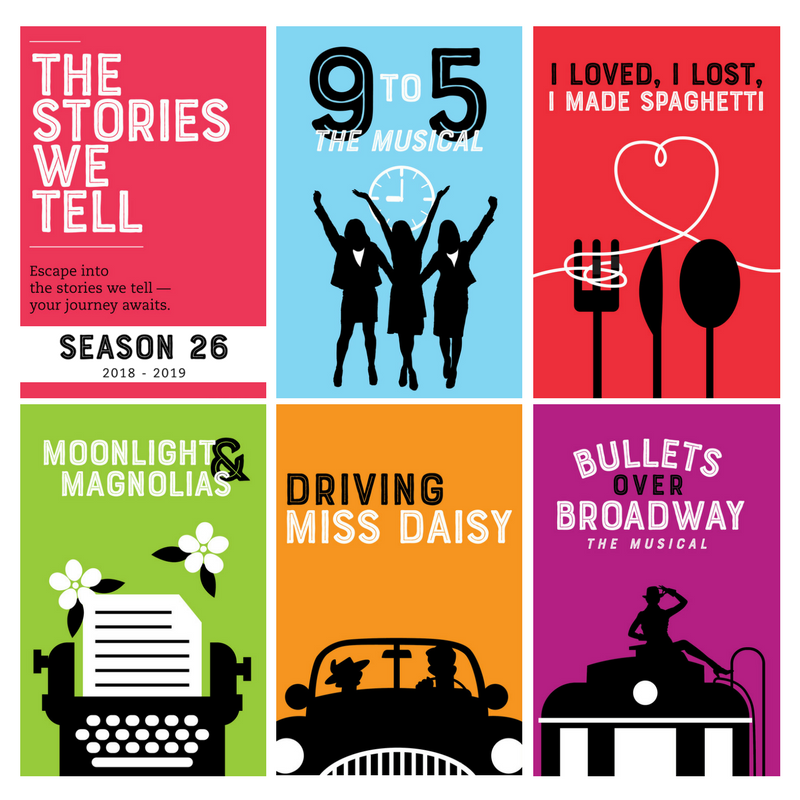 SAVE over 15% off individual ticket prices.
The BEST SEATS go to subscribers who are assigned seating first! You are guaranteed the same great seat every time. And when a show sells out, no worries: your seats are already taken care of. No lines. No waiting. Great seats!
EXCLUSIVE, NO-HASSLE TICKET EXCHANGES. Conflicts? Your first exchange for each show is free. Just give us 24 hours notice, and we'll take care of you. (Upgrade fee may apply for exchanges to a different day of the week.)
TICKET DISCOUNTS. Purchase additional tickets at $2.50 off the regular price. More Savings!
GUEST PASSES. As our gift to you, you receive one pass per subscription to bring a guest to any production of the season for FREE.
EARN A FREE SUBSCRIPTION. Referral rewards earn you 10% off your subscription for every new subscriber (up to 10) that you refer to GET.
CLASS DISCOUNTS. 15% off classes at GET's award-winning Conservatory.
THEATRE FOR YOUTH DISCOUNTS. Subscribers get a discount on tickets to our public performances of Theatre for Youth productions.
Subscription Pricing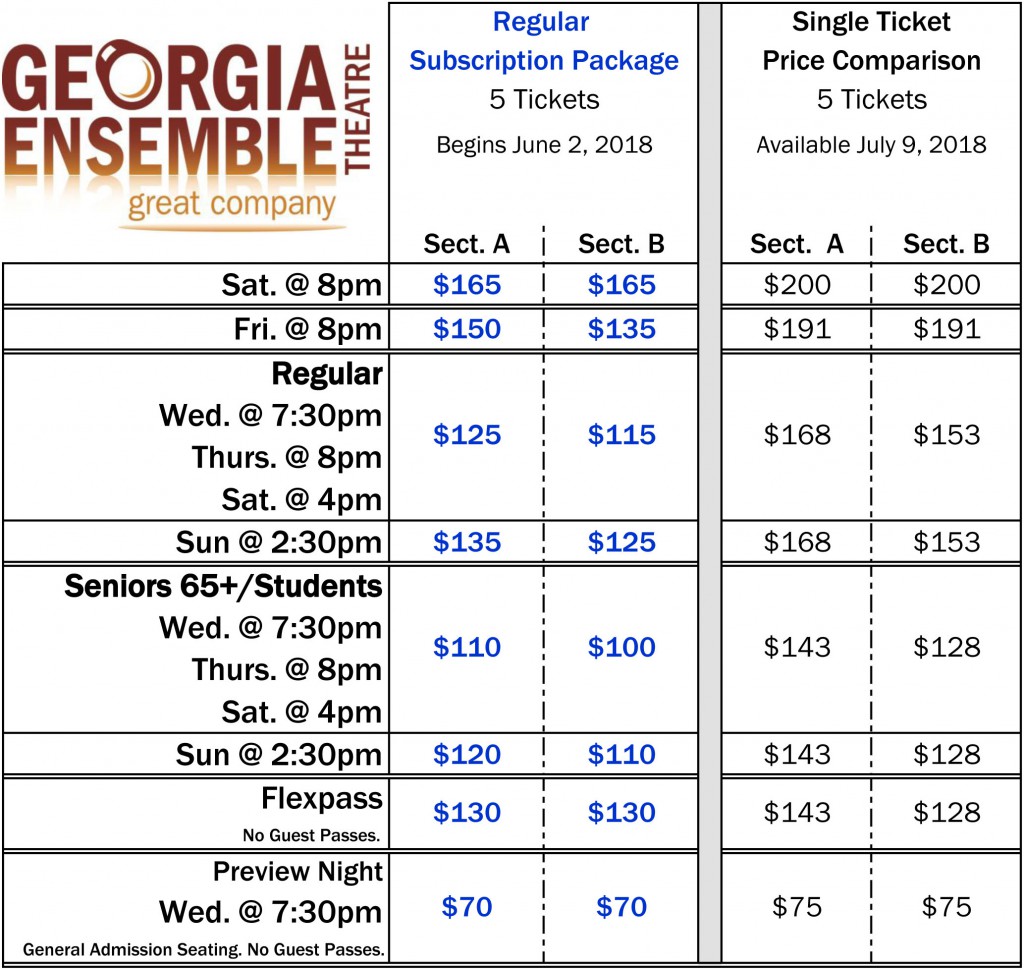 GET a Flex Pass - Only $130 for 5 tickets!
Scheduling issues? Interested in just musicals? Just comedy? No problem! Purchase five admissions at a discounted price now, and choose your dates and shows later. You will benefit from many of the great perks of being a GET subscriber.* GET Flex Passes may be used in any combination. See each play once; see two plays with a friend or two. The choice is yours!
* Please note: No Value Vouchers are given for the Flex Pass option.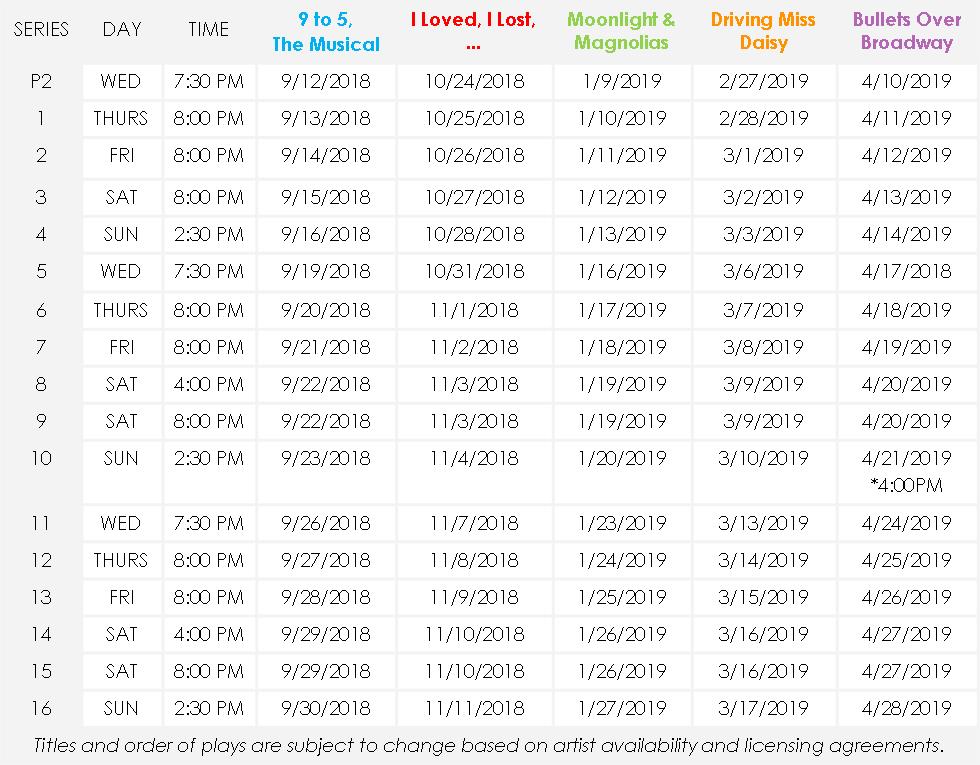 Preview subscriptions are available for the Wednesday before opening for $60. (General Admission. Does not include value vouchers or exchanges. Preview performances are still in rehearsal and subject to changes.)
What is a Preview? The Georgia Ensemble Theatre Preview Performance program provides a valuable service to us as we continue to rehearse and make final adjustments to our productions. Individual tickets and subscriptions to these productions are significantly discounted from our regular ticket prices. The preview performances you will see have been extensively rehearsed in the rehearsal hall; the play has now moved onto the set and costumes, lights and sound have been added. Now that final element comes into play: you. Your experience at a preview performance will inform us on what IS and what is NOT working, and will determine our final rehearsals before the official opening performance for the general public. To that end, we are happy to provide the discounted ticket prices you pay for previews. You will still see tables in the audience chamber for our director, technicians and design staff as we continue to note the show. And we ask that you sit together in one concentrated area, so that your experience of the play may as closely as possible replicate the dynamic of our heavily attended post-opening performances. Individual and subscription tickets are available for previews; we also offer blocks of tickets to previews to other non-profits who wish to use the event as a fundraiser for their organization (application is required before approval for this service – call the Box Office for details).