Ring of Fire - The Music of Johnny Cash
Back by hugely popular demand...
GET goes back to the Chattahoochee Nature Center this summer
- we're bringing the show everyone is buzzing about...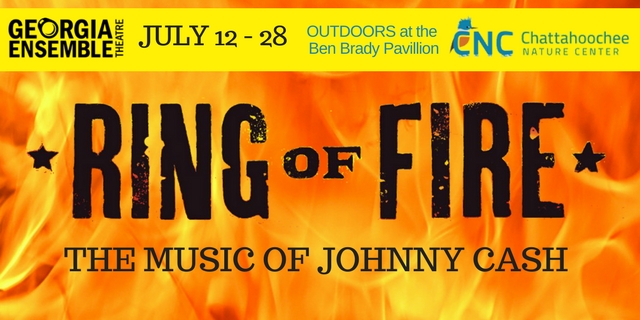 JULY 12-28, 2018
Thursdays, Fridays & Saturdays at 8pm
3 weeks Only!
Table Seats $35 Lawn Seats $15
(+ $1.50 service fee on each ticket)
Buy Tickets online or Call 770-641-1260
Note: Summer Box Office Hours are Mon-Fri, 12:30 - 6pm
(Closed Sat and Sun)
RAIN OR SHINE THE SHOW WILL GO ON!
WALK UPS WELCOME TOO!
Nothing Better Than Great Music In the Great Outdoors!
This July, spend a summer night outdoors at Atlanta's Nature Destination,
the Chattahoochee Nature Center.
Amble along the Wildlife Walk - See bald eagles up close
Picnic under the setting sun - Grab a beer or wine at the bar and then...
Sit back and soak up music of an American legend, Johnny Cash!
From vintage country to rockabilly, from rock-n-roll to searing ballads of love and deep faith,
Ring of Fire tells the story of the Man in Black through his music.
A summer night to remember with more than two dozen classic Cash hits, including:
"I Walk The Line", "A Boy Named Sue", "Folsom Prison Blues", and of course "Ring of Fire" all performed by a sensational 5-person cast!
Shows are selling quickly!
Lawn seats are not reserved. Those using lawn chairs please use back half of the grass.
Bring a picnic, decorate your table, have a blast! There is a bar on site!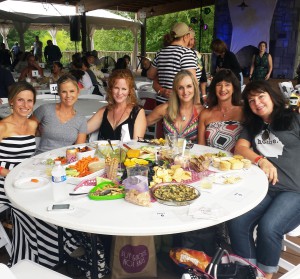 All shows are at the Ben Brady Pavilion at The Chattahoochee Nature Center
9135 Willeo Road - Roswell, GA 30075
All shows start at 8 pm. Entry to Nature Center starts at 6:30 pm.
All shows rain or shine! Feel free to bring a rain poncho or umbrella.
Please Note: glassware and outside alcohol are prohibited - bags checked at entry.
No refunds if show is canceled due to inclement weather.
Featuring
Laura Lindahl is excited to return to GET and perform some of her favorite songs alongside her husband. Previous favorite roles include Shelby in Spitfire Grill (non-Equity Jeff nomination), Amalia in She Loves Me, and Lily in A Secret Garden. Laura moved back to her hometown of Snellville five years ago and teaches theatre at Brookwood High School.
Christopher Kent* (Carl Perkins) is thrilled to be back at GET. Regional credits include: Merry Go Round Playhouse: Hank Williams Lost Highway (Jimmy) with George Wendt. Atlanta Lyric Theatre: The Producers (Leo Bloom), Spamalot (Patsy), Actors Playhouse (Coral Gables, FL): Sondheim On Sondheim (Franklin Shepard, etc), Aida (Radames), Jesus Christ Superstar (Jesus), Last Five Years (Jamie) with Janet Dacal, Charlie Brown (Snoopy), Forbidden Planet (Captain Tempest). Caldwell Theatre: Next Fall (Brandon) Blowing Rock Stage Company: Bye Bye Birdie (Albert) The Immigrant (Haskell). Favorite orchestra credits: Arizona Theatre Company: Hair (Chris McGovern), Actors Playhouse: Breakin Up is Hard To Do (Tom Kitt), Atlanta Lyric Theatre: Full Monty, Chicago, Dreamgirls, and many more. All my love to my wife, Lisa.
Chris Damiano* is thrilled to be playing the role of Johnny Cash again! Damiano spent 6 years playing Johnny Cash with the Chicago cast of Million Dollar Quartet, at the Gateway Playhouse in Bellport, NY, Casa Manana in Ft Worth, TX and most recently in GET's co-production with Atlanta Lyric Thatre. Other Atlanta credits: Almost Heaven; John Denver's America, Sanders Family Christmas(Burl), Pump Boys and Dinettes(Jackson), The Unauthorized Autobiography of Samantha Brown(Dad). Damiano is overjoyed to share the stage with his beautiful wife in this production!!!
Scott E. DePoy* is delighted to be working on this show with a cast and crew that are truly inspirational. He has composed and performed music for the Alliance Theatre, Theatre in the Square, Kaiser Permanente and many others. Theatre: Edward Foote, A Child's Garden of Verses, Cinderella and Fella (Alliance Theatre), Almost Heaven, Ring of Fire, Swell Party (GET), the Smoke on the Mountain trilogy (Theatre in the Square, Atlanta Lyric Theatre). Television: "Bloodlands" and "Sleepy Hollow." Scott also sang on the soundtrack for the movie "Cold Mountain" and at the Academy Awards with Elvis Costello and Alison Krauss.
Mark W. Schroeder returns for his 11th production with GET, having previously been seen here in Pump Boys and Dinettes, Ring of Fire (2012), and Buddy - The Buddy Holly Story, among others. He's performed around town since 1991 in over 100 productions. Love to Bob and his GET family, and love to Emily, Eddie, and Ben.
*Member of Actor's Equity Association


Here's all the fine print about outdoor concerts at the CNC
Concert Guidelines/Rules and Tips:
The Chattahoochee Nature Center (CNC) will open at 6:30 pm for that evening's RING OF FIRE patrons. Seating areas will be open for picnicking and the grounds of the Nature Center will be open for viewing.
Parking at CNC is free! If you choose to ride your bike to the event, please leave your bikes, tricycles, scooters and other wheeled transportation devices locked in our bike rack or secured in your car.
There are no tickets to pick up. Just look for our signs at the entrance to the Discovery Center. Check in there and we'll give you a wristband that lists your seat location.
The CNC is completely ADA compliant from the parking lot to the Pavilion (wheelchair accessible). If you need assistance reaching the seating area, please ask at the box office when you pick up your wristband.
Coolers and picnics are welcome. OUTSIDE ALCOHOL IS NOT ALLOWED. Alcoholic beverages may be purchased at the bar in the Pavilion (along with soft drinks & water). Bags and coolers may be checked by security staff at the gate.
The following items are not permitted at the event: Glass, outside alcohol, pets (except service animals), folding tables, or weapons of any kind.
Patrons with table seats are welcome to bring tablecloths or décor, but please no candles. There are ten chairs at each round table.
Each seat at a table is numbered. Please do not turn or move your table. If you have questions about your seat location, please ask the House Manager for assistance and we'll be happy to help you.
Lawn chairs and blankets are welcome on the lawn. A line across the center of the lawn marks the point behind which taller chairs can be set up. Blankets and low beach chairs are permitted in front of the line.
Only patrons with wristbands will be allowed on the premises after 6:30pm.
The use of photography, video or recording equipment is strictly prohibited during the performance.
Smoking is not permitted in the seating area. There is a designated smoking area at CNC near the Pavilion.
Please look after your personal belongings. Georgia Ensemble Theatre and Chattahoochee Nature Center are not responsible for lost or damaged items.
Unauthorized sales, solicitations and distributions are prohibited.
Georgia Ensemble Theatre makes every attempt to perform as scheduled. In the event of rain, those in the lawn area may move to chairs or standing room under the Pavilion. In the unlikely event the show is substantially delayed or canceled, tickets may be exchanged to another performance. If you are unsure about the status of the performance due to weather, please check back here at www.get.org for any delay/cancellation announcements.
For directions to Chattahoochee Nature Center, please visit www.chattnaturecenter.org.
For more about Georgia Ensemble Theatre's programming, please visit Our 18-19 Season.