About Us
Georgia Ensemble Theatre, Official Resident Company of the Roswell Cultural Arts Center, Celebrates 27 Years as North Fulton's Cultural Gem!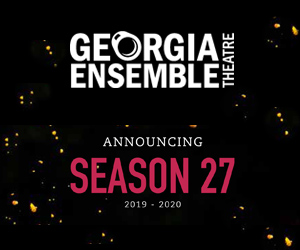 Support for Georgia Ensemble Theatre is generously provided by the City of Roswell
Georgia Ensemble Theatre's mission is to create a connection between artists and audiences of all ages.

Georgia Ensemble Theatre (GET) provides award-winning theatre productions and first class educational opportunities on a year-round basis and is the resident professional theatre at the Roswell Cultural Arts Center. The Theatre has earned a reputation for the quality and diversity of its plays.
Since its first production of Kaufman and Hart's You Can't Take It With You in 1993, GET has produced 21 regular seasons of plays and musicals with 141 productions on the main stage at the Roswell Cultural Arts Center and on tour to elementary and middle schools throughout Georgia. Notable productions have included a world premiere of The Invisible Man by Larry Larson and Eddie Levi Lee, commissioned by the Theatre. Our Southeastern premiere of The Living was the kickoff event for AIDS Awareness Month in the Atlanta metro area in '97. Having Our Say was part of our cross-cultural promotion with downtown's Seven Stages and Jomandi Theatres. In the 1999-2000 season, GET's ambitious The Lion in Winter, directed by world-renowned Russian actor and director Eugene Lazarev, marked great strides for the Theatre both technically and artistically. In 2009, the Suzi Award-winning Buddy: The Buddy Holly Story became GET's most popular show and was followed by a remount at the 14th Street Playhouse in midtown the following year. In recent years, GET has produced the world premieres of Swell Party and Tokens of Affection, both by Topher Payne, and commissioned Payne's The Only Light in Reno in our 21st season. For our 22nd season we commissioned Homers from playwright Jacob York and then in our 25th season we again commissioned Payne for Morningside on the main stage and our TYA show S.T.E.A.M. Team.
During the 2001-2002 season, Georgia Ensemble added a series of school matinees for our production of The Miracle Worker, playing to approximately 2100 students. This initiative has been replicated in seasons since then with critically acclaimed productions of the American classics To Kill a Mockingbird, Of Mice and Men, Our Town and Great Expectations, all playing to large student matinee audiences. The Theatre also produces one or two plays annually for Elementary School students as part of the Theatre for Youth program and plans to present The Lion, The Witch and The Wardrobe and Stuart Little in the coming season to students through field trips to the Cultural Arts Center, as well as tours to schools in surrounding counties.
Since 1998, GET has taken the powerful, multi-media Holocaust drama And Then They Came for Me: Remembering the World of Anne Frank on tour annually to many elementary and middle schools in the region. The story follows the lives of childhood friends of Anne Frank – Eva Geringer and Ed Silverberg – both Holocaust survivors. Students see Eva (now Schloss) and Ed share their stories in their later years on screen while actors portray them as children during the Holocaust. This play has played to more than 500,000 students in its 20 years of production.
The Conservatory serves the diverse community in north metro Atlanta. Ongoing educational opportunities are offered throughout the year in a conservatory setting. Classes include curriculum for youth as well as adults in all levels of theatre craft. Sessions are offered throughout the year, and many of our most popular courses are unique and not offered elsewhere in the area.
In 2007, Georgia Ensemble Theatre was awarded two CABY Awards: one for Outstanding Organization, and one for Excellence in Arts Education. The Theatre has been nominated for numerous Suzi Bass Awards for artistic excellence in theatre and received awards from Atlanta Magazine for Best Theatre Company (Readers' Choice) in 2008 and Best Suburban Drama in 2011. GET's Artistic Director Robert J. Farley has been honored with the 2011 Flourish Award from Kennesaw State University and a Lifetime Achievement Award from the Pasadena Playhouse. Bob and Anita Farley were honored as Lexus Leaders of the Arts by PBA Atlanta in 2006 and received the Leitalift Foundations' Valued Leaders in the Arts Award. Just recently in 2016, Bob was awarded the first ever Non Profit Visionary Award by the Greater North Fulton Chamber of Commerce.
Georgia Ensemble Theatre enjoys a strong relationship with many of its corporate and foundation partners. Organizations that have been instrumental in the development and continued growth of the Theatre and Conservatory are: The Thoresen Foundation, Kimberly-Clark Corporation, Macy's, The Abreu Charitable Trust, Synovus Bank, Fulton County Arts and Culture, Georgia Council for the Arts, the Georgia Power Foundation, The Malon D. Mimms Company, Niolon Lumber, Northside Hospital, The Robert W. Hagan Family Foundation, Appen Media Group, the City of Roswell and the Roswell Cultural Arts Board. GET is also proud to be affiliated with Actors' Equity Association, Atlanta Coalition for the Performing Arts, the Atlanta Convention & Visitors Bureau, Theatre Communications Group, Roswell Rotary, Roswell Woman's Club, and several other local organizations.